VIEW A BRIEF PROFILE OF OUR SUPPLY PARTNERS AND INDUSTRY ASSOCIATES

The NZ Transport Agency's (NZTA) factsheets provide information on transport safety, standards and processes. All of the latest standards and fact sheets are available on their web site and can be printed directly from the site.

TERNZ is an independent research organisation that specialises in transport-related issues.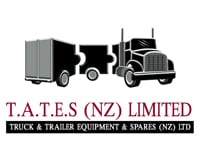 T.A.T.E.S. is based in Papakura and supplies truck and trailer spare parts to the transport industry within the Auckland region.

Hendrickson is a manufacturer and supplier of suspensions, brake systems, tire pressure control systems, auxiliary lift axle systems, springs, bumpers and components to the global commercial transportation industry.

The fundamental purpose of the TTMF is to further the interests of its members by being actively engaged as a voice for the industry. The TTMF has a major role as a consultation group to regulatory bodies such as the NZ Transport Agency.
The Road Transport Association is a membership based national industry association committed to providing support and development for their members and the road transport industry as a whole.